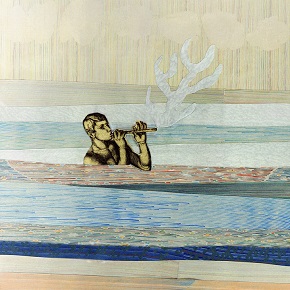 Cover: Gosia Słomska 
Kelp resembles a story about a non-existent maritime blur of garbage. The blur visits cold effusions, meets the white snails & green sea anemones. Dives into areas next to the map, stirring kelp with magnetic tape. In Kelp Duy knoted guitars, field recordings, glitch samples and electronic beats that float on the surface of the records and combine into new organisms.
Many thanks to: Asia a bunch!, Mom & Dad, My dear ones with whom I have played & at whose place I have played too. Pawlacz Perski.
Reviews: A Closer Listen | 1uchem1okiem | Popupmusic | Nowamuzyka