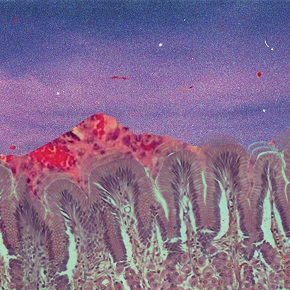 We are mainly seeking emotions in the faces of those whom we talk with, but after crossing the skin line the absorbed emotions dissolve and spill all over the brain. 'Under The Face' is trying to capture this very moment – when we do not understand yet, but we already feel. Naphta – a Wroclaw musician and producer, known for more regular musical forms is responsible for A side ('Cerebral Cortex' track). This time he focused on the exploration of the sounds on the border of being awake and the sleeping state. Side B belongs to Braki – a trio which includes Naphta, Jan Stulin and Kasia Konachowicz. 'Thalamus' tells the story of the mystery of dreams, the freedom of daydreaming and the gentle disengagement.
Braki – an exploratory trio from Wroclaw consisting of Jan Stulin (synthesizers), Kasia Konachowicz (synthesizers) and Paweł Klimczak (guitar, fx). Their specialty is mystical cavities and intuitive travel on sonic texture and the creation of almost tangible sound space.
Naphta – producer, musician and DJ from Wroclaw. His debut album – '7th Expedition' – has been released in Transatlantyk. Besides that he has published vinyl EP records in such labels as Studio Barnhus, OMENA or Father & Son Records And Tapes. In music, he is primarily seeking escapism conquered by polyrhythms, by that means it is easy to trace the African, Asian or spiritual-jazz themes in his works.
Reviews: 1uchem1okiem | Nowe Rytmy
Graphic design – Laura Kudlińska
Album is available in digital files and in a limited edition of 50 cassettes.