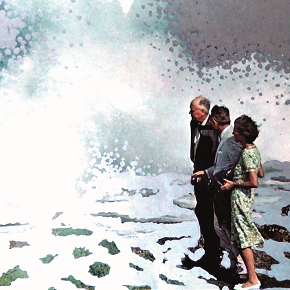 The Doubts compilation comprises dub techno tracks. Paide and Fischerle – the selectors and decision-makers – decided to change the artists' standard direction of explorations. Trying to reverse the classic order of compilations alike, we invited the producers associated with widely understood experiment for whom the dub techno music has so far been an unexplored ground.
FOQL and RNA2 duet, known mainly for their strictly carved constructions, have presented a slowed-down and vast narration. Anunevenly gliding pulse, located in a deep wobbly rhythm, is surrounded by a layer resembling the static drones of Ellen Fullman. Mirt, on the other hand, embeds the track's rhythmic section in field sounds and ambient acoustics. "Static" Meeting By Chance (Marcin Cichy's project) was based on organic sounds sendingus back to Flanger's hi-tech jazz. Footwork Rhythm Baboon speeds up the dub techno machinery to 160 bpms, and Łukasz Kacperczyk submerges the pulse in disturbuing psychodelia. Michał Wolski and Micromelancolié's tracks resembling unimaginable study of extended sonic space complete the whole.
Doubts is a dub techno compilation of distorted and unclear roots. It is located somewhere at a critical point trying to extract some exhilarating potential.
Mastered by Plugaudiomastering
Design: Laura Kudlińska
Reviews: Kultura Staroci | Muno | FYH 
Album is available in digital files and in a limited edition of 60 cassettes.