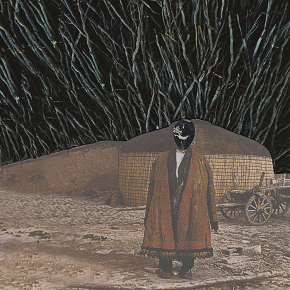 The musicians of Bachorze are playing as if they took to heart the Captain Beefheart's advice – You should play like a drowning man, struggling to reach shore . 'Okoły głębione wiatrem' [PL: Crofts oppressed by wind] are dirty noisy substances caged by irregular pulse and infected with the blues virus. Psychodrama? Staging? Urban ritual? Or maybe are they the last spirits of rural musicians trying to find their way in the post-industrial chaos?
Michał Biel – baritone sax
Paweł Doskocz – electric guitar, objects
Maciej Maciągowski – modular synth
Mix and mastering – Bartek Olszewski
Graphic design – Laura Kudlińska
Recorded at Klub Dragon in Poznań, August 2014
Reviews: Popupmusic  | 10 Fucking Stars | Kultura Staroci | Polifonia | RedBull | 1uchem1okiem | ATTN | FYH | Trybuna Muzyki Spontanicznej
Album is available in digital files and in a limited edition of 80 cassettes.